DESPICABLE ME 4K UHD DOLBY VISION BLU-RAY REVIEW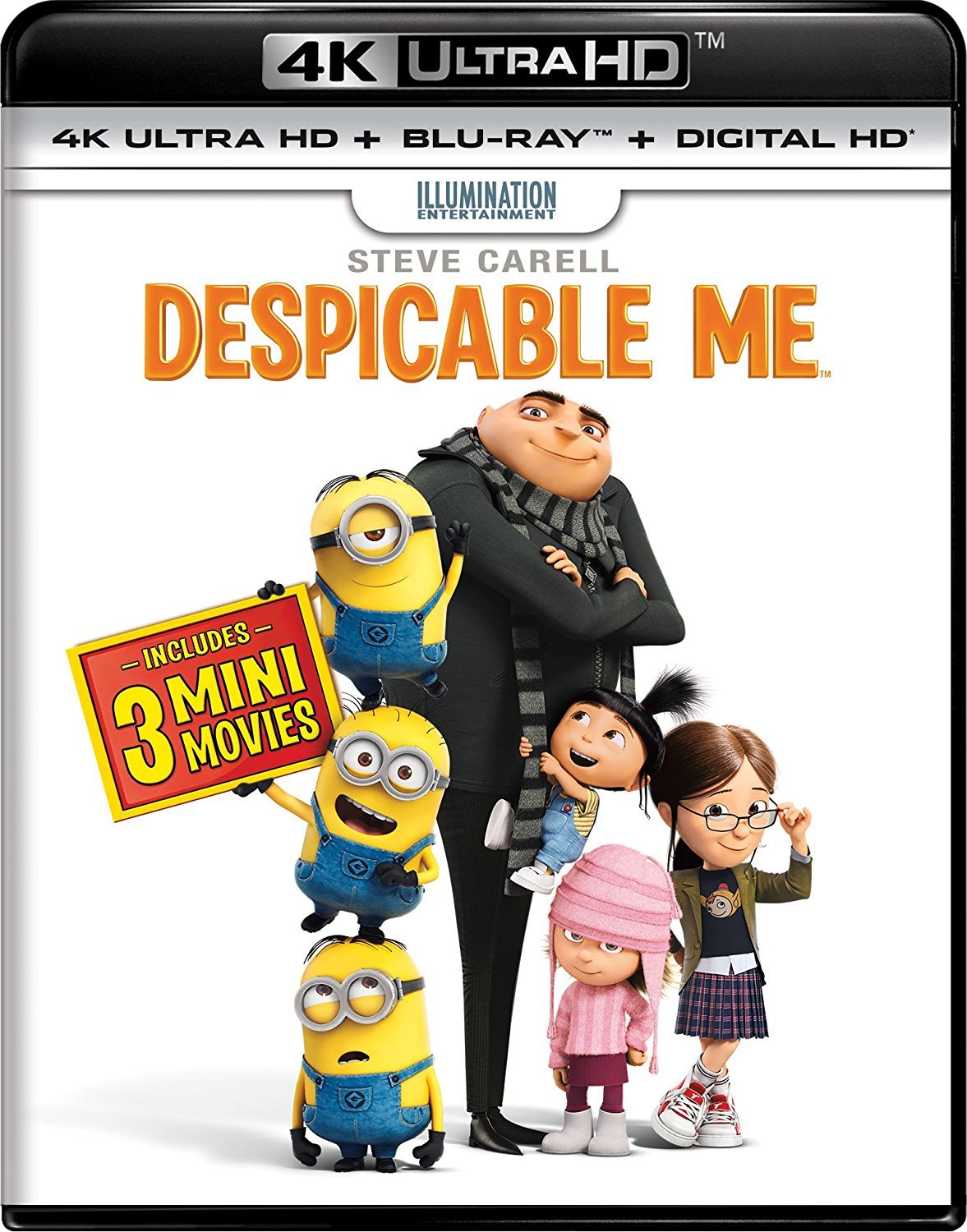 Despicable Me 4K Blu-ray
4K Ultra HD + Blu-ray
Universal Studios | 2010 | 95 min | Rated PG-13 | Jun 06, 2017


Video
Codec: HEVC / H.265
Resolution: 4K (2160p)
Original aspect ratio: 1.85:1


Audio
English: DTS:X
English: DTS-HD Master Audio 7.1 (48kHz, 24-bit)
Spanish: DTS 5.1
French (Canadian): DTS 5.1


Subtitles
English SDH, Spanish, French (Canadian)


Discs
Blu-ray Disc
Two-disc set (1 BD-50, 1 BD-66)
4K Ultra HD (UHD)
Dolby Vision / HDR10
UPC 191329008331
DESPICABLE ME STORY
Trying to outdo his main rival Vector, serial villain Gru hatches a plan to steal the moon, aided by his army of minions. About to set his dastardly plan in motion, and bristling with his arsenal of freeze-rays and sci-fi gadgetry, all goes according to plan until the arrival at his door of three little orphan girls, Margo, Agnes and Edith, in search of a father figure.
Directors: Pierre Coffin, Chris Renaud
Writers: Ken Daurio, Sergio Pablos, Cinco Paul
Starring: Steve Carell, Jason Segel, Russell Brand, Julie Andrews, Will Arnett, Kristen Wiig
DESPICABLE ME VIDEO REVIEW
Even from looking at the Despicable Me menu the colors of Dolby Vision just popped out. Animation is certainly a great choice for the first title using Dolby Vision. I tested the Blu-ray, the HDR10 version using the Xbox One S, and then Dolby Vision using the Oppo 203.
The Dolby Vision version has the most color and it seems the most detail, the colors are absolutely incredible, and vs HDR10, HDR10 looks muted by comparison.
Detail is also top notch, sweaters have incredible detail, and details remains high throughout the entire movie.
I did not see any blocking or artifact noise, but I do have one issue which is inherent of computer graphics and that is the anti aliasing issue (Stair-Stepping). I found this to be an issue throughout the movie, hard round edges have a step step look to them. The glasses of the next door neighbor were obvious, and for me ruined the presentation of the movie for me.
With all that said, this disc is incredible looking and if you're looking for some Dolby Vision content, you will not be disappointed.
VIDEO SCORE = 4.5
DESPICABLE ME AUDIO REVIEW
Audio is clear and precise, nice bass and dialogue is very clear. Minor use of DTSX height speakers, not overdone. A nice sounding disc, but I wasn't blown away.
AUDIO SCORE = 4
MY REVIEW DEVICES
LINE CONDITIONER – FURMAN ELITE-15 PF I
DENON – X6300H
ELAC – DEBUT SERIES
OPPO – UDP-203 4K ULTRA HD BLU-RAY
XBOX ONE S
VIZIO – P75C1
---
SOCIAL
YOUTUBE
BLOGS
WEBSITE | EBAY | FORUMS